IASS Tuesday Talks: "Unpackaging the Packaging Sector and other Learnings from the fellowship"
March 23, 2021um14:00

-

16:00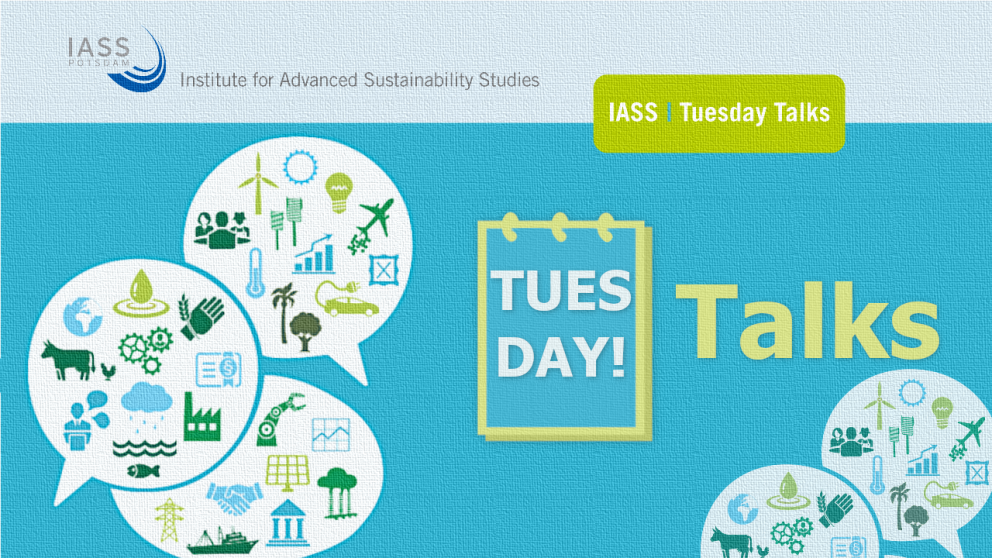 Parul Kumar
"Unpackaging the Packaging Sector and other Learnings from the fellowship"
Abstract:
The focus on packaging as a subject of regulation has gained prominence in recent years, owing to factors such as greater awareness about the consequences of plastic ending up in the environment, change in lifestyle patterns, and a greater commitment to the principles of the circular economy.
Parul's fellowship was a deep-dive into the legislative framework for packaging in Germany and the European Union. Her research focused on the principles of the waste hierarchy, extended producer responsibility, and the circular economy, and the place they find in the current legislative framework.
The first part of her presentation will focus on presenting some of the research findings from her research conducted at the IASS. The second part of the presentation will be a discussion on the experience of being a fellow at the IASS, and will "un-package" some of the other more personal learnings from the fellowship.
Please join the meeting from your computer, tablet or smartphone.
Biosketch:
Parul Kumar was a German Chancellor Fellow of the Alexander von Humboldt Foundation at the IASS between November 2019 and February 2021. This Fellowship is awarded to ten experienced professionals each from Brazil, China, India, Russia, and the United States of America. Parul is a lawyer by training, with a bachelor's degree in law and liberal arts from the National Law School of India University in Bangalore, and a master's degree in law and economics from the University of Hamburg, University of Ghent, and the Warsaw School of Economics. She has over a decade of work experience focusing on issues of commercial law and environmental policy.
Previous Tuesday Talks
February 23, 2021:
Stephan Lorenz
"Transdisciplinary Sustainability Research: Sociological Reflection, Procedural Perspectives and Professional Cooperation"
February 16, 2021:
Natalia Realpe Carrillo, Sebastian Groh, Shonali Pachauri and Gunther Bensch
Five years of the MTF to measure energy access –
Practices, lessons learned, & outlook for cost-efficiently tracking progress towards SDG 7
Privacy Notice:
Please read our Privacy Notice before participating in IASS online events. You can find it here. For technical reasons, it is unfortunately not possible for you to participate in online events with DFNconf, GoToMeeting / GoToWebinar or zoom and NOT consent to the processing of your data. Therefore, participation in IASS online events with DFNconf, GoToMeeting / GoToWebinar or zoom requires your consent to the processing of your data by the IASS, by the cooperation partners at the event in question and by DFNconf, GoToMeeting / GoToWebinar or zoom.