Diese Veranstaltung hat bereits stattgefunden.
IASS Tuesday Talks: "Impact-Driven and Action-Based Research Project (IMPACT-R) – Background, Goals, Activities, and Methods"
März 30, 2021um14:00

-

15:00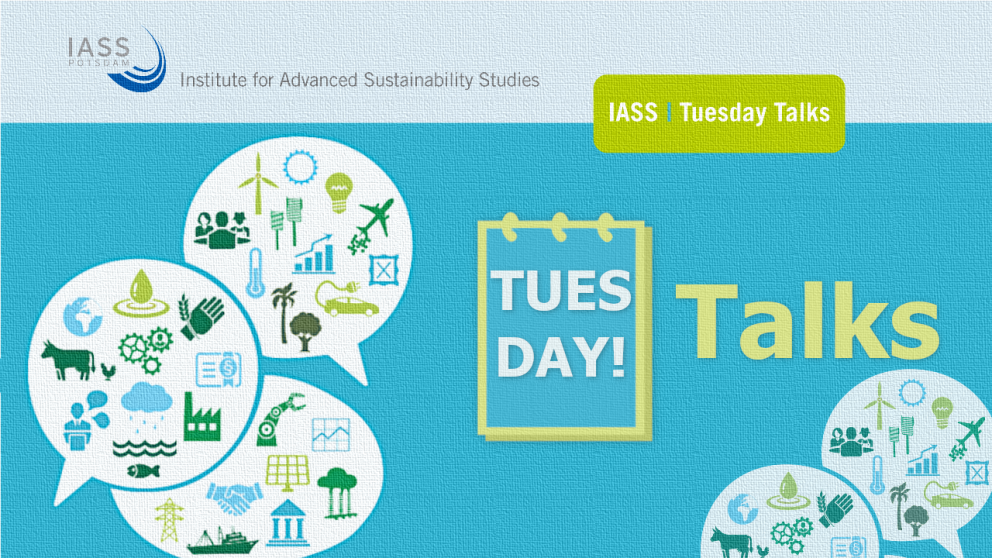 Natalia Realpe Carrillo
"Impact-Driven and Action-Based Research Project (IMPACT-R) –
Background, Goals, Activities, and Methods"
Abstract:
Understanding the needs of the population, beyond national statistics, is crucial to achieving sustainable development without leaving anyone behind. Despite the awareness of the role of evaluation, the monitoring of progress at the household level remains a major challenge for academia and the public and private (investors, NGOs, financial institutions, and small and medium enterprises) sectors.
IASS's IMPACT-R (Impact-Driven & Action-Based Research: Establishing Collaborative Frameworks for Researchers, Impact Makers, and Sustainable Entrepreneurs) project, led by the Klaus Töpfer Sustainability Fellow Dr.-Ing. Natalia Realpe Carrillo, aims to contribute to the interdisciplinary field of impact assessment in the sector of sustainable development, focusing on achievement of the Sustainable Development Goals (SDGs) that are directly related to access to energy (SDG7), clean water and sanitation (SDG6), and food security (SDG2).
The goal of the project is to establish strong links between researchers and practitioners, especially in developing countries, investigating innovative assessment methodologies to enable different stakeholders (research institutions, local communities, development organizations, and international investors) to: (i) understand the needs of vulnerable populations; (ii) analyze the market with respect to different products and services; and (iii) establish procedures for organizations to track their achievements according to the latest standards.
Upon the successful completion of the call for tenders for conducting a series of data collection projects, and prior to starting these projects in Latin America, Africa, and South Asia, Natalia is going to share more information about the overall IMPACT-R project, including the goals, planned activities, and methods. Participants and organizations interested in joining and collaborating are welcome to attend.
Please register here.
You can join the meeting from your computer, tablet or smartphone.
Biosketch:
Natalia Realpe Carrillo is a Klaus Töpfer Sustainability Fellow from Institute of Advanced Sustainability Studies (IASS), director of HEDERA Sustainable Solutions GmbH, a spin-off of TU Berlin Institute for Energy Engineering (IEE), co-head of the Green Inclusive & Climate Smart Finance Action Group from the European Microfinance Platform (e-MFP) and guest lecturer at the Pan African University Institute of Water and Energy Sciences including Climate Change (PAUWES) and at TU Berlin Campus El Gouna. Natalia holds a PhD Degree in access to energy from the Institute for Energy Engineering at TU Berlin. She has worked for over a decade in the green microfinance sector as senior project manager and energy consultant, supporting institutions in enabling access to clean energy in rural remote regions, managing projects in Latin America, Central Asia and Africa. Based on the results of her PhD, HEDERA was launched to offer digital solutions to measure energy access and track progress out of energy poverty at household level. Natalia delivers trainings on energy access, demand assessment, green microfinance, tools for evaluating environmental performance and on rural energy supply.
Previous Tuesday Talks
March 23, 2021:
Parul Kumar
"Unpackaging the Packaging Sector and other Learnings from my Fellowship"
February 23, 2021:
Stephan Lorenz
"Transdisciplinary Sustainability Research: Sociological Reflection, Procedural Perspectives and Professional Cooperation"
February 16, 2021:
Natalia Realpe Carrillo, Sebastian Groh, Shonali Pachauri and Gunther Bensch
Five years of the MTF to measure energy access –
Practices, lessons learned, & outlook for cost-efficiently tracking progress towards SDG 7
Privacy Notice:
Please read our Privacy Notice before participating in IASS online events. You can find it here. For technical reasons, it is unfortunately not possible for you to participate in online events with DFNconf, GoToMeeting / GoToWebinar or zoom and NOT consent to the processing of your data. Therefore, participation in IASS online events with DFNconf, GoToMeeting / GoToWebinar or zoom requires your consent to the processing of your data by the IASS, by the cooperation partners at the event in question and by DFNconf, GoToMeeting / GoToWebinar or zoom.